Electric Circus and Tiny Island Co Produce G-Fighter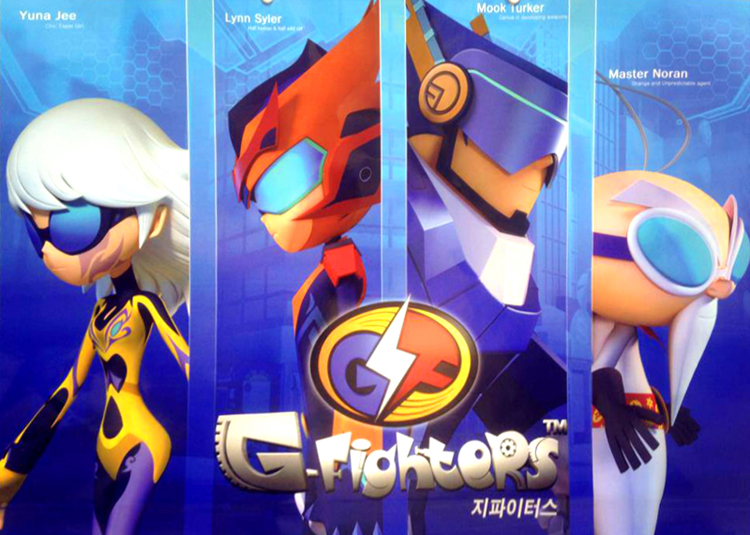 SOUTH KOREA, 26th July 2013- At the South Korean international animation market Seoul Promotion Plan (SPP) being held this week, South Korean animation production house Electric Circus has signed a co production deal with Singapore animation studio - Tiny Island Productions to produce the CGI action-adventure series G-Fighter (26 x 22 minutes). The animated TV series is supported by SBA, KOCCA, EBS, SK Broadband and CJ E&M.
"We have always admired Electric Circus's design works. And we are confident that the unique design of the show will make it standout in the market." - David Kwok, CEO of Tiny Island Productions.
The deal represents the first international co-production between Korea and Singapore animation companies. Both Electric Circus and Tiny Island Productions have established themselves internationally as unique and dynamic creators in the animation field. Their outstanding efforts have earned themselves recognition and many awards.
With Electric Circus's strong and unique designs and Tiny Island's high value production capabilities, the audience can expect to see an exciting series coming up at the end of 2014.
"Tiny Island Productions is one of the best 3D Animation Studios in Singapore. The synergy between the 2 companies will definitely make this co-production relationship a great success." - Wooki Kim, CEO of Electric Circus.
About Tiny Island Productions (Pte. Ltd.)
Tiny Island Productions is Singapore's leading Stereoscopic 3D CG animation production company. Established in 2002 and based in cosmopolitan Singapore, the company creates, manages and markets quality content for the global CG animation market. The company is producing a slate of CG animated television and film projects, available in Stereoscopic-3D, in collaboration with international partners from Japan, Korea, Hong Kong and Thailand.
Most recently, the company's stereoscopic-3D CG animated original series "Dream Defenders" has been sold to 3Net, (the 24/7 3D Network from Sony, Discovery and Imax) and Hulu, in the United States. Dream Defenders has also recently won the Asia Image Apollo Awards 2013.
Besides developing its own IP. Tiny Island Productions also provides production services for its international clients. The studio has recently completed the production for the all new Ben 10 CGI Telemovie: Destroy All Aliens in both standard and stereoscopic 3d format for Cartoon Network. And the show has won 2 major awards. Gold for Promax Asia and Best 3d Programs for Asia Television Awards.
The company has also previously worked with international distributor Dreamworks Classic and Thai-based producing company, Shellhut Entertainment, on a CG animated series, Shelldon, that was aired on major networks including NBC USA and France 5. Other earlier deals inked include a development deal with Los-Angeles based Saban Entertainment Group (SEG), with SEG providing development resources for a CG animated series.